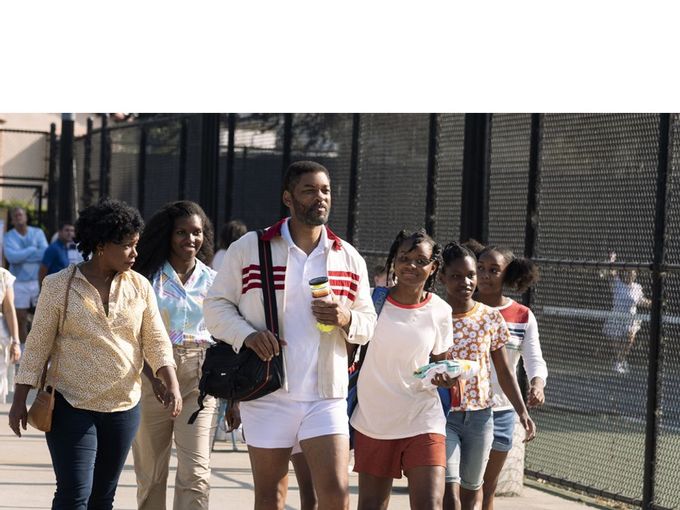 American women Venus and Serena Williams are among the most titled tennis players in history. It was simply impossible not to film a story about the success of these girls. But the main character of the film "King Richard" about the Williams sisters was their father, who, in fact, provided his heiresses with a brilliant career. The film started in the Russian box office on November 18, 2021. Our columnist Denis KORSAKOV, who studied the uplifting history of one American family, was not very inspired by it.
How Venus and Serena Williams got started
Compton, located 20 km from Los Angeles, is famous as one of the most criminal cities in the United States (they say, there are about eight times more murders than other American cities). It is also famous as the birthplace of "protest" black rap (the legendary group NWA hails from there, at least two members of which - Ice Cube and Doctor Dre - are known even by the average Russian listener). And finally, this is the homeland of Serena (Demi Singleton) and Venus (Sania Sidney) Williams, who from this kind of mud made their way to the shining courts of Wimbledon and Roland Garros, and now are among the best tennis players of all time.
And none of this would have happened if not for their father, a humble guard Richard Williams (Will Smith). Even before the girls were born, he decided that they would become tennis players, and drew up a detailed 78-page plan for how they would achieve greatness. He says about himself: "I'm in the business of growing champions!" Of course, most of the professionals only chuckle ("Do you mean to say, two Mozarts are growing in your house?"), But at some point he gets lucky. Now the girls (more precisely, so far only the eldest, Venus) have one coach with Pete Sampras, and she wins one junior competition after another. But then the father says to all this junior nonsense his decisive "No": children are only tortured there, they burn out and break down. His daughters will receive a normal education and to remain normal children - only train, train and train in parallel, until they immediately go to a professional court. This is his plan. Everyone around is just twirling their fingers at their temples - but we know who was right in the end.
Lovely Will Smith in DiCaprio's situation
Will Smith is the star and the main advantage of this picture (and also one of its producers). And on March 27, 2022, if the Earth does not hit the celestial axis, he will receive an Oscar - at least now, in mid-November, most Hollywood analysts agree on this. Firstly, for a quarter of a century Smith has been known and loved by the entire planet (and, more importantly, almost all of Hollywood); secondly, he still does not have an Oscar (and it's time);-that eyelids got an incredibly winning, "gift", one hundred percent Oscar role. This is exactly the same situation in which Leonardo DiCaprio found himself with The Survivor. But, fourthly, Smith is also black - which in the current socio-political conditions, many tend to view as a big plus.
And his "Oscar" will be absolutely deserved. Richard Williams, as Smith plays him, is a surprisingly stubborn, arrogant, intractable man, with some kind of, and pulls to say, a peasant sly - but at the same time not devoid of wisdom. The filmmakers are ready to sing it as if they were creating the life of a saint: special emphasis is placed on humility, which for Richard Williams was (and, apparently, remains now, at his 79 years old) one of the highest virtues.
Five daughters of Richard Williams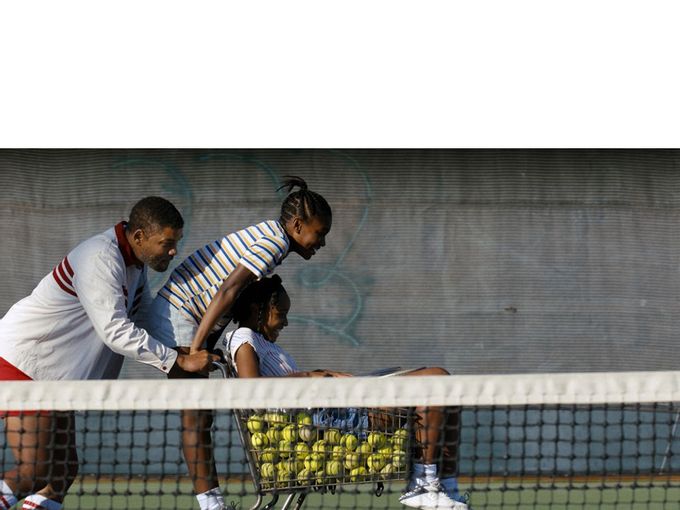 At the beginning of the film, impudent young Compton gangsters harass his adopted daughter (in addition to his relatives Serena and Venus, he raised his wife's three daughters from his first marriage); Williams tries to talk to him humanly - and he is beaten. He swallows the insult. A few days later, the bandits meet him and beat him again. Taking a pistol in hand, Williams goes at night to deal with the main offender hanging out in some eatery - and does not have time to reach him along a dark street just a few steps away. They are ahead of him: the young scoundrel is being shot by someone from a passing car. And the hero of Smith - wonderful, I must say, in this scene - exhaling, lowers the pistol and retreats back into the darkness. And this is considered by the authors as a miracle and a warning: if Williams had unloaded the pistol at the villain, there would have been no future for him or his daughters.
Later, Williams would show his five daughters Disney's Cinderella and ask: what was the main quality of the heroine? When the girls try to laugh it off or answer, from his point of view, is wrong, he threatens to play them the tape again from the beginning. And then again and again - until they understand. But nevertheless, having mercy, he immediately explains: "She remained modest, calm and pure in heart, no matter how humiliated she was."
Numb viewer: a critic's opinion
Richard Williams was never respected - and as a result, the whole world began to respect him and his daughters. This is all very cool; you can be glad for Will Smith, and for his hero, and for Venus with Serena and their sisters - they got a strange, but very loving, very strong and wonderfully able to motivate dad. But at the same time, after "King Richard" you leave the hall a little wooden, like Pinocchio. You probably have to love tennis and / or people very much in order to endure these 138 minutes, where endless episodes of training and games, endless showdown with coaches fall on several bright acting scenes. Endless fuss around advertising contracts (today they give $ 3 million, but maybe it's better to wait until they give $ 5 million? And then they can give $ 12 million).
This, frankly, is simply very boring - even the final shock episode of the match where the young Venus fights the famous Arancha Sanchez Vicario. No matter how the director Reinaldo Marcus Green builds up the tension, it is not so important whether the girl wins the champion or not. This is still not "Rocky", where we did not know the future hero. This is where we know that everything with Venus and Serena will be just awesome. And we know this long before we go to the cinema.
Things to know (Q&A)
Will Will Smith get an Oscar for King Richard?
IS KING RICHARD BASED ON A TRUE STORY? Yes. King Richard is based on the true story of Richard Williams , the father of Venus and Serena Williams. In the film, Richard tells anyone who will listen that his daughters are born to be stars and that he has an 84-page plan to achieve that drea
How true is the King Richard movie?
Will Smith has been nominated for an Oscar twice before throughout his career but his performance in 'King Richard' might be the one that gets him the prize. One of these nominations have been from playing historical figures related to sports, Smith simply has a certain aura about him that makes him sports-friendl
How many times has Will Smith been nominated for an Oscar?
Based on the true story of Serena and Venus Williams' childhood , the movie explores Richard's experience with fatherhood and his efforts to secure his daughters' futures in the sports worl
How Much Will Smith made for King Richard?
The Hollywood Reporter revealed earlier this month that Smith received about $40 million for the film, and subsequently used his own money to pay bonuses to the cast of King Richard, including Saniyya Sidney (Venus) and Demi Singleton (Serena), as well as Tony Goldwyn, Jon Bernthal and Aunjanue Ellis.
For what movie was Will Smith first nominated for an Oscar Award?
Smith portrayed heavyweight boxer Muhammad Ali in the 2001 biopic Ali . For his performance he was nominated for the Academy Award for Best Actor, and the Golden Globe Award for Best Actor – Motion Picture Drama.
What actors have won 3 Oscars?
Six have won three Academy Awards: Daniel Day-Lewis (three Best Actor awards), Frances McDormand (three Best Actress awards), Meryl Streep (two Best Actress awards and one Best Supporting Actress award), Jack Nicholson (two Best Actor awards and one Best Supporting Actor award), Ingrid Bergman (two Best Actress awards ...
Who has been nominated the most for an Oscar but never won?
Peter O'Toole

Peter O'Toole and Glenn Close jointly hold the record for most nominations in the acting categories without a win, with eight, followed by Richard Burton with seven, and Deborah Kerr, Thelma Ritter and Amy Adams with six.
How true to life is King Richard?
King Richard is (mostly) a true story . Of course, there are some embellishes here or there, but for the most part, the narrative is accurate. Getting beaten in front of his kids was a regular occurrence. He did removeVenus and Serena from junior competitions.
Is the movie King Richard based on a true story?
Smith says he identified with Richard, and even compares him to his own father. Serena and Venus produced the movie and claim that it is as true to reality as possible . However, History Vs Hollywood has found some inconsistencies between reality and the portrayal of Richard in King Richard.
How does Serena Williams feel about King Richard?
Richard prevails as a heroic figure in King Richard, a barrier breaker who set out to change the face of the tennis industry and always put his daughters first, "People have gotten the story wrong, or media have portrayed my dad in an untruthful light. We want to get this story right," said Serena.
Do Venus and Serena approve of King Richard?
'He's not the king of the world': Venus and Serena Williams' half-sister says ' King Richard ' only tells 'half the story' Serena and Venus Williams' half-sister Sabrina slammed the biopic in an interview with The Sun. Sabrina said Richard Williams abandoned her family when she was 8 years old.
How many awards has Will Smith been nominated for?
Willard Carroll Smith Jr. is an American actor, rapper, and film producer. Smith has been nominated for five Golden Globe Awards and two Academy Awards , and has won four More…
Has Will Smith ever gotten an Oscar?
It's Will vs.

Both stars have phenomenal reviews and "overdue" narratives they could push this year: Washington hasn't won an Oscar in 20 years, while Smith hasn't won at all despite two nominations . If he prevails, Washington would become the first Black actor to win three Oscar
Which actor has been nominated the most for an Oscar?
Meryl Streep

The individual with the most Oscar nominations of all time is Meryl Streep , with 21 nominations in total and three wins. Katharine Hepburn received 12 nominations but took home one more award than Streep throughout her acting career, winning four Oscars in total.
Has Will Smith ever won an Oscar or Grammy?
Will Smith has won four Grammys out of eight nominations.